Zest dry eye treatment is an exciting new treatment and stands for Zocular eyelid system technology. The Zocukit in-clinic procedure works for those with dry eye due to blepharitis and /or meibomian gland dysfunction. We follow it up with inexpensive at home therapy for ongoing maintenance.
ZEST features an innovative, natural approach to the management of various common eye conditions, using a patented Zokrex technology with an activated Okra-based system to provide immediate and long-lasting relief. The Zest gel contains an okra based complex blended with vitamins, flavonoids and the ocular antioxidants; lutein and zeaxanthin. These work together to support the health of the skin and mucous membranes around the eyes. The proprietary micro-matrix Zocuswab foam applicators are used to effectively bind and lift debris from the eyelid margin to remove the bio-film that contributes to inflammation, redness and dry, flaky skin. The procedure is safe, gentle and highly effective for managing dry eye disease, Meibomian Gland Dysfunction (MGD), Blepharitis and Demodex.
How does ZEST for dry eye work?
Zest is a deep clean for your eyes that removes impurities and debris.
No topical anaesthetic is required
A gel is applied to your eyelids and lashes.
The gel is made into a lather using a sterile cotton swab using gentle circular motions.
This helps to clear away oil, debris and residue.
Once complete the eyelid and lashes are rinsed with saline wash.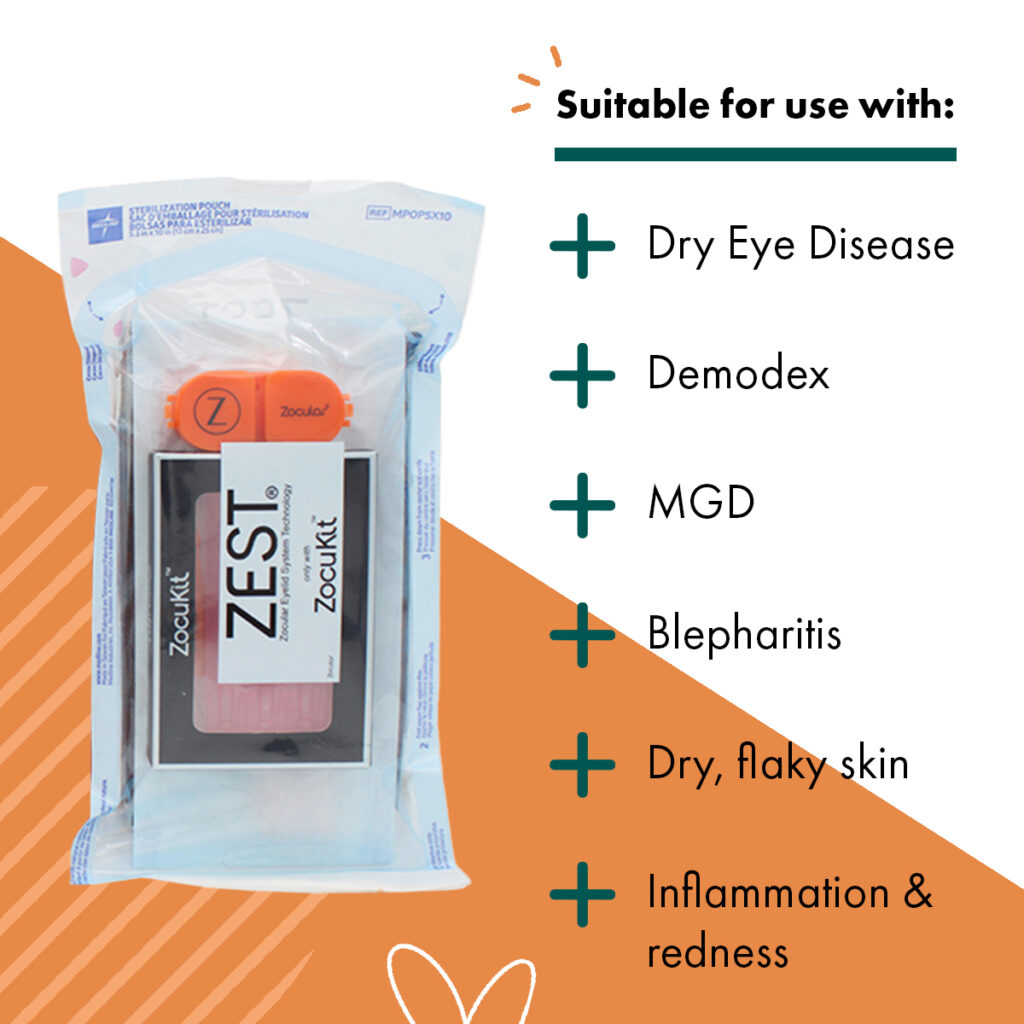 Is okra good for dry eyes?
Okra (also known as Lady Finger) is a plant that contains a variety of polysaccharides, vitamins, Lutein , Zeaxanthin and flavonoids. This combination provided support to healthy tissues in the eyes, mucous membranes and skin around the eyes. Okra has been reported to exert anti-oxidative and anti-inflammatory effects by suppressing the Akt-mediated NF-κB pathway in a murine BV2 microglial cell line.
Other treatment options include BlephEx, IRPL and at home self therapies. Contact us to find out more about which treatment plan is most suitable for you.