This post contains affiliate links
---
Some of the best macular degeneration vitamins available on the market are made by well known companies and the formulations are made from high quality ingredients.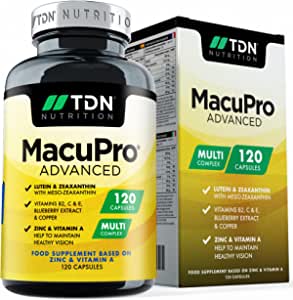 𝟯𝟯.𝟯%+ 𝗔𝗡𝗧𝗜-𝗜𝗡𝗙𝗟𝗔𝗠𝗠𝗔𝗧𝗢𝗥𝗬 𝗖𝗢𝗠𝗣𝗢𝗨𝗡𝗗𝗦 𝗪𝗜𝗧𝗛 𝗕𝗟𝗨-𝗕𝗢𝗢𝗦𝗧: Our patented complex has a 4:1 blueberry extract equal to 600mg of blueberries (vs other supplements' 6mg) to FIGHT OXIDATIVE STRESS. The high anthocyanin content also HELPS REGENERATE RHODOPSIN TO IMPROVE NIGHT VISION.
𝗠𝗜𝗖𝗥𝗢𝗡𝗜𝗦𝗘𝗗 𝗟𝗨𝗧𝗘𝗜𝗡 𝗙𝗢𝗥 𝟯𝗫 𝗠𝗢𝗥𝗘 𝗕𝗜𝗢𝗔𝗩𝗔𝗜𝗟𝗔𝗕𝗜𝗟𝗜𝗧𝗬: Other supplements contain large particles that can't be absorbed – up to 75% is excreted. We convert our lutein to NANO-SIZE crystals (< 70 nm). This improves encapsulation efficiency (to 99.5%) & enables 51% MORE NUTRIENT INTAKE.
𝟯𝗫 𝗠𝗢𝗥𝗘 𝗣𝗢𝗧𝗘𝗡𝗧 𝗕𝗟𝗘𝗡𝗗: Most brands don't offer the optimal antioxidants. Our FULL-SPECTRUM BLEND has vitamin C for cataract prevention & to help lutein absorb faster. Plus, 5mg of vitamin B2 (reduces eye fatigue), vitamin E (protects against free radicals) & vitamin A (lubricates & promotes a healthy retina).
Vegetarian: Yes vegan
AREDS2: Yes
Pack size: 120
Dosage: 1x daily
---
MacuShield Original Formula is the No.1 recommended supplement by eye experts
MacuShield Original combines all three macula carotenoids – lutein (10 mg), zeaxanthin (2 mg) and meso-zeaxanthin (10 mg) – in a unique formula developed to enhance visual performance and support eye health
Contains 90 softgel 15 mm x 8 mm tablets
Blister packed, gluten free, not tested on animals, manufactured in the UK
Vegetarian: No, bovine gelatine
AREDS2: No
Pack size: 90
---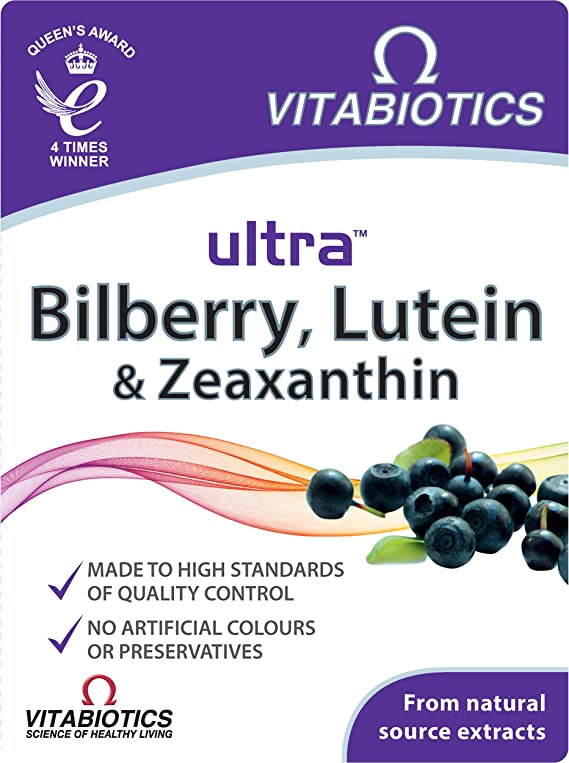 Bilberry extract containing anthocyanins may contribute to the maintenance of normal eye health through antioxidant and vascular effects
Each Vitabiotics Ultra Bilberry, Lutein & Zeaxanthin tablet contains 10mg of Lutein , 2mg of Zeaxanthin and the equivalent of 500mg Bilberry
All Ultra products (excluding Ultra Vit B Complex) can be taken alongside any multinutrient product in the Vitabiotics range for that additional boost.
Vegetarian: Yes
AREDS2: No
Pack size: 30
Dosage: 1x daily
---
MacuShield Gold provides a fortified MacuShield formulation with added vitamins and minerals
Developed in collaboration with leading eye health experts
Containing zinc to help maintain normal vision.
Containing vitamin E to contribute to the protection of cells from oxidative stress
Vegetarian: No
AREDS2: Yes
Pack size: 2x 90
Dosage: 3x daily
---
Manufactured using high quality PHARMACEUTICAL GRADE ingredients.
Manufactured in the UK under GMP (Good Manufacturing Practice) under License in an ISO accredited facility Environmentally friendly minimalist slimline packaging which slips directly through your letterbox. No waiting in or visits to the post office
High BIOAVAILABILTY PURITY AND POTENCY. Premium ingredients ensure that we are able to guarantee you the highest bioavailability to ensure maximum absorption
Vegetarian: No, Bovine gelatine
AREDS2: No
Pack size: 180
---
What is macular degeneration?
The macula is the central part of your retina and responsible for most of your detailed vision and colour vision. Outside the macula area is your peripheral retina, and this is responsible for your night vision. Macular degeneration occurs in the macula area and effects your detailed central vision and colour vision.
There are two main types which cause either a slow degradation in vision or a sudden drop in vision. These are termed dry age related macular degeneration and wet age related macular degeneration respectively.
Age is a big factor in the condition as the condition is linked to a reduction in the efficiency of regenerative processes in the macular area of the retina.
Why do you need macular degeneration vitamins?
The class of vitamins that are responsible for macular health are actually antioxidants. These macular antioxidants are derived from your diet and come in the form of lutein, zeaxanthin and meso-zeaxanthin. These compounds are called xanthophylls and art a yellow pigment found widely in nature. They are oxygen containing carotenoids. What is the role of these compounds? They are used by the cellular processes to protect the cells by absorbing damaging UV and high energy visible light and reducing free radical cellular damage.
What makes the best macular degeneration vitamins?
There have been some really large studies to look at the best combinations of vitamins and minerals you need to maintain the health of your macula. The AREDS or age-related eye disease studies was the first big study and was later superseded by the AREDS2 study.
The AREDS2 formulation are made of large amounts of vitamins and minerals in the following combination.
| | |
| --- | --- |
| Vitamin C | 500mg (milligrams) |
| Vitamin E | 400IU (international units) |
| Lutein | 10mg |
| Copper (cupric oxide) | 2mg |
| Zeaxanthin | 2mg |
| Zinc | 80mg |
AREDS2 Formula
It can be difficult for many people to find the above combination from a regular diet and so you may find it useful to take macular supplements. Its a good idea to speak to your doctor if you have other health issues and take other medication, before starting supplements.
---